School History
 Any young person living on Lulu Island in the early 1900s who wanted to continue from one of the community's four elementary schools to high school had to travel across the Fraser River either to Vancouver or New Westminster in order to complete a graduation (matriculation) diploma. The history of high school in Richmond goes back to 1910, when a four-room school house was built on Bridgeport Road with the intent that the two rooms on the second level would be used for Grades 10 and 11 students in the years to come (graduation was originally after Grade 11). To accommodate the small number of students who wanted to finish high school instead of going off to farm or work, Bridgeport School operated as a combined elementary and high school from 1910 to 1927 and remained an elementary school until 1980. In 1927, Richmond High School was the municipality's first dedicated high school and the building was originally located at the corner of Cambie and Sexsmith Roads (see photo below). 
Miss I.E. Clemens moved over from Bridgeport School and was the principal during the first year and then for the next 31 years the school was led by principal Allan Roy MacNeill. A.R. MacNeill Secondary School in East Richmond was opened in 2003 and named after Richmond High's longest serving principal. (You can see a list of all Richmond Secondary School principals here).  The first matriculation class from Richmond High School included 17 students in 1928.  
As the area steadily grew from the mostly rural farming and fishing community of Lulu Island and Sea Island to the larger cosmopolitan City of Richmond, the school also evolveand underwent many structural and organizational changes. From 1937 until 1958, Grades 8 and 9 students were added and the name was changed to Richmond Junior and Senior Secondary School. In 1952 the school moved to its current location at the intersection of Foster Road, now called Minoru Boulevard, and Granville Avenue in central Richmond and the original building became H.J. Cambie Junior Secondary School. (image below on left is a school crest from the 1930s. The Latin motto translates into "Do Your Best"; the photo below right is old RHS, at the school's current location, in 1953). 
From 1958 to 1995 the school was home to students in Grades 11 and 12 only and was known as Richmond Senior Secondary School but the students, staff and community simply called the school 'Richmond High'. In 1996, the eleven high schools in Richmond at that time were reconfigured to Grades 8 to 12 schools and Richmond High became Richmond Secondary School.  In the early 2000s the school building was replaced with an expanded, state-of-the-art facility built immediately to the west of the older building, (and the 1950s school building was torn down and replaced with an artificial turf field) and reopened to students on January 5, 2004.  All of the senior matriculation and graduation class composite photographs from 1928 to today are displayed with honour in the halls of the school.
The primary goal of our school is to develop responsible, caring, reflective and resilient young people who can think and communicate effectively. Over many decades the school has developed a strong culture of curiousity and learning and an ethos of academic excellence. Every year, Richmond High students consistently achieve amongst the very highest in British Columbia in the provincial program and each year scores of students are awarded Ministry of Education and a range of post-secondary scholarships.  Since 1984, the school has also been an I.B. World School and has offered the International Baccalaureate Diploma Programme as an option for students in Grades 11 and 12.  This is a challenging, comprehensive two-year educational program and Richmond Secondary IB Diploma pass rates, average total points and average subject grades considerably exceed world averages.  Several thousand students have attained this impressive international distinction. Since June of 1928, thousands of Richmond Secondary School graduates have gone on to universities and colleges all over the world and, more importantly, fulfilling careers and successful lives.
At Richmond High, learning has never been limited to academic pursuits and the school always strived to include all students and develop well-rounded, balanced young people and positively engaged citizens. Students have excelled in many creative and technical programs, extracurricular teams and clubs and socially responsible endeavours. Music classes and performances are a big part of the school experience, including talented concert bands, choirs and jazz bands and ensembles. Live theatre, plays and musicals have been presented for decades. The first Richmond yearbook was published in 1940 and the complete collection of old yearbooks is available in the current school Library Learning Commons. Richmond's professional cook program and automotive, construction, visual arts, digital media and photography classes saw students create diverse portfolios, troubleshoot and rebuild engines, erect buildings and go on to earn Red Seal status. Since 1991, the District Colt Young Parent Program and on-site daycare facility have been an invaluable part of the school and greater communities. The Colt Program is operated by the Richmond School District in partnership with Family Services of Greater Vancouver and has supported scores of young parents from diverse backgrounds with personalized and individualized education plans as they develop their parenting skills and knowledge, while completing high school and moving on to a variety of post-secondary pathways. 'Baby grad' every June is one of the highlights of the school year!
A wide and rich variety of extracurricular opportunities have engaged thousands in student councils, grad committees, school newspapers, dance clubs, championship cheerleader squads, dragon boat teams, garden clubs (and onsite garden), chess & games clubs, science teams, environmental clubs and green teams, social justice and multicultural clubs, computer, coding & robotics clubs and many volunteer groups all helped give students a sense of belonging and purpose.
(As early as the 1940s, students achieving distinction in academics or athletics could receive an R letter crest to display proudly on their letterman sweater. This tradition was reinstated in 2020 for students who achieve 'Major Service' recognition). Over a period of several years, student members of the very active RHS Green Team applied for grants, wrote proposals and lobbied the district and were eventually successful in having a large solar power station erected on the roof of the school in the spring of 2020. RHS students have been involved in exciting travel opportunities and with many charitable and community events.  It was a 25-year tradition at Richmond to raise funds and provide hands-on, technical expertise to assist with humanitarian projects in developing nations and many student groups have travelled all over the world as part of the successful Global Perspectives program. The first trip was to Ecuador in 1995, followed by student trips to Vietnam, Guatemala, Indonesia, China, Thailand, Dominican Republic, Philippines, Cuba, Peru, Cambodia, Laos, Morocco, Paraguay, Mongolia, Fiji, Botswana, Samoa, Bhutan, Jamaica, India, Tonga and Chile. Similarly, school-wide efforts to honour Canadian veterans (including former RHS students who served in WWII and Korea) with donations and 'dress your best' day before Remembrance Day, highlighting cancer research by raising funds and participating in our annual Terry Fox Run and generously supporting many non-profit and charitable organizations, including the Richmond Food Bank, are important parts of the Richmond High experience every year.
​The history of the school includes a very proud tradition in athletics and student-athletes have represented Richmond High in competitions ever since the doors opened in 1927. In 1970, the school adopted the name Richmond Colts and this has been a well respected name in B.C. School Sports ever since.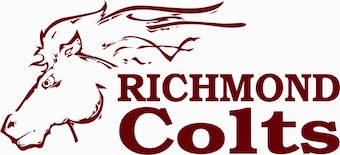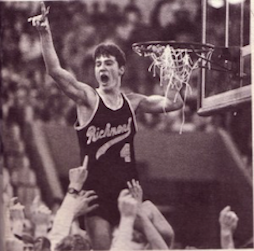 The Colts have won no less than 18 B.C. Championship titles in a variety of sports.  Often known as the "Super Colts", the senior  boys' basketball team dominated the 1980s and early 1990s and won the Lower Mainland title ten times, the provincial championship banner a record five times and played in the B.C. championship final game an amazing ten times.  The senior girls' cross country team was very strong, capturing the B.C. title in 1984, and girls' basketball and volleyball teams also enjoyed years of great success, competing at the B.C. tournament many years in a row and capturing the B.C. championship title in 1990-1991 (basketball) and 1992-1993 and 1994-1995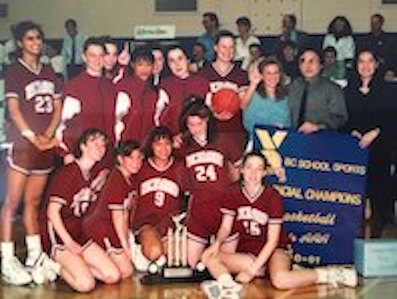 (volleyball). The Colts football program was a powerhouse for many years and the team competed in the top tier B.C. title game six times, winning the provincial championship title four times, including 1976-1977 and then three in a row in 1996, 1997 and 1998. Similarly, RHS won two B.C. championships in senior boys' soccer in 1989-1990 and 1995-1996, twice in junior boys' basketball in 1995-1996 and 1997-1998 and senior ultimate in 2015 and the Richmond Colts have competed in provincial tournaments countless times in many other sports. Colts athletics has generated a lot of school pride and positive energy and from the 1960s to the 1990s, the school's most spirited competition was with their crosstown rivals the Steveston Packers (became Steveston-London Secondary School in 2007 with the merger of Steveston and London secondary schools) and football, basketball and all games between the two senior high schools always drew standing-room only crowds, including hundreds of enthusiastic students, parents and alumni. Similarly, bus loads of RHS supporters often with their faces painted maroon and white, with the support of the talented
Colts cheerleader team, packed the stands to cheer on RHS student-athletes at many provincial championships.  Many former Colts student-athletes have gone on to play for B.C. and Canada, at the elite level in the NCAA, USports (CIS), and B.C. colleges, as well as professionally in Europe, in the CFL and even in the NFL. Current Colts student-athletes continue to excel in basketball (e.g. 2015 & 2019 senior boys' RSSAA champions, 2020 South Fraser Zone senior boys' AAA champions), volleyball, badminton, tennis, ultimate, and many other sports and RHS teams continue to compete for RSSAA, Zone and Provincial titles.  Most importantly, all of our student-athletes understand this tremendous legacy and know that they are expected to represent the Richmond Colts with dedication, skill, respect, sportsmanship and class, inside and outside of the classroom, always.
The school has developed strong connections to the local community and thousands of people growing up in Richmond have built deep attachments to Richmond High. Parents have been active partners, from the charter members of the Richmond High Parent-Teacher Association to the tremendous support given today by parents in Parent Advisory Council and Dry After Grad. Parental involvement and support helps make Richmond Secondary a better place to learn and to work. The Richmond High School Alumni Association was formed in 1988 by a group of alumni during the 60th anniversary celebrations of the school. Since this time, the RHS Alumni has donated hundreds of thousands of dollars to the school in scholarships, library upgrades, athletics, music, theatre, clubs, computers and technology, dry after grad, the Colts mural (see bottom of page) and by supporting many community-building endeavours like Grade 8 Camp, Breakfast with Santa and The Colt Carnival. The Board of Directors volunteer their time to apply for and manage provincial gaming funds, organize community and fundraising events and they continue to support Richmond High and the Alumni Association on behalf of all RHS grads. Sustaining positive connections with our community is important and since the mid-1970s, the school has hosted an annual "Richmond Secondary Community Christmas Luncheon" in early December that is open to members of the wider community and our guests enjoy a traditional Christmas meal with all the trimmings prepared by our professional Cook Training students, and the event raises funds for both local and global charitable organizations. Similarly, each May the RSS Alumni Association hosts an "Alumni Luncheon" at the school and we welcome back former students and staff from many different decades.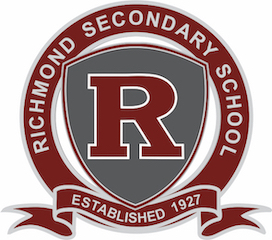 We are very proud of the long history of Richmond High and the deep traditions of academic and extracurricular excellence serve as a solid foundation for our school. A new Richmond Secondary School logo was introduced in the 2015-2016 school year (school academic R crest on the left) that incorporates the school's original R in a shield, with our school colours. At the same time, a new, 'retro' Colts crest was established, reconnecting the school with the original rampant horse logo (see Colts crest above right). While great traditions began as the first RHS students entered our school doors in 1927, as we progress into the 21st century, we are committed to continuing to do our best to grow, evolve and to improve upon this legacy of excellence to best prepare our students for success in an ever changing world.
Once a Colt, Always a Colt.
Fac Tuum Optimum - Do Your Best.